If you would like your local event listed here, please contact psa@wtfm.com
Or, add it to our list yourself here
---
Friends In Need presents the upcoming dates and locations for Appalachian Miles for Smiles, the mobile dental unit that provides free dental services to individuals in need.

August 25-26: A two-day event in coordination with Providence Clinic in Kingsport. Patients will need to contact Providence Clinic to arrange an appointment.

September 10-11-Lee County Virginia RAM Event- Patients will need to be present to register and treated on a first come-first serve basis.September 22-23- In coordination with Sullivan Baptist Church in Kingsport -Appointments to be made by contacting the Church.


October 7-Homeless Veterans Clinic in Johnson City-No openings available.

October 14-15-RAM Event at Bristol Motor Speedway-Patients will need to be present to register and treated on a first come-first serve basis.


October 20-In coordination with Crossroads Medical and Celebration Church in Kingsport-Patient appointments made by contacting Celebration Church.

October 23-24-West Virginia RAM Event for Flood Victims-No local patient appointments available

For more information contact Bruce Sites at brucesites@finhc.org
---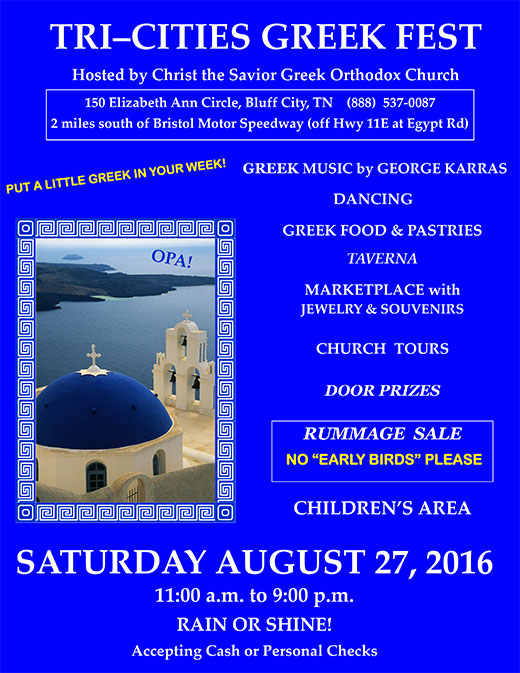 ---
---
The Dobyns-Bennett Class of '76 is celebrating their 40th Reunion on Friday, September 9th at 6:00 pm at the Dobyns-Bennett Field House, 2nd floor meeting room and patio. Enjoy an evening of fun, fellowship, good food and a great Homecoming game featuring the Dobyns-Bennett Indians vs. Sevier County Smoky Bears. All classmates are encouraged to send in their registration forms as soon as possible so we can adequately prepare for our evening of celebration. And, don't forget the celebration continues on Saturday, October 22nd, so be sure to save the date. For complete information, contact Thom Throp at
tthrop23@yahoo.com
.
---
Join Flintknappers from across our region for a weekend long demonstration and gathering of primitive technologists at Sycamore Shoals State Historic Park on Saturday and Sunday, August 27 & 28 from 10 am to 4 pm each day. This fun, family weekend only happens once a year so we hope you will stop by!
The art of flintknapping is the process of making stone tools, such as arrowheads, spear points and other survival tools, using traditional tools. This skill has been passed down through generations and for the annual Knap in at Sycamore Shoals, you will have the opportunity to enjoy demonstrations of the craft along with other tools used by primitive cultures worldwide.
Sycamore Shoals State Historic Park
1651 W. Elk Avenue
Elizabethton, TN 37643
423-543-5808
www.sycamoreshoalstn.org
www.tnstateparks.com/parks/about/sycamore-shoals
www.facebook.com/sycamoreshoals

---
The eighth annual Fine Art in the Park held on the International Storytelling Center grounds Saturday and Sunday, Oct. 15 and 16 and is now taking applications for new artists now through September 9.
The goal of this show is to highlight the fine art produced in our region. Featuring nearly 50 artists located inside the International Storytelling Center and the surrounding Storytelling Park, the juried and judged event accepts unique fine arts and crafts from around the region. In keeping this a fine art event, the attempt is to offer a venue for professional artists to showcase their artwork.
Booth space is limited to approximately 50 artists. The inside booth fee is $125 for both days, plus a $20 jury fee. Lawn/Park booth fee is $100 for both days plus a $20 jury fee. For more logistical information: http://www.jonesboroughtn.org/images/2016_Call_to_Artists.pdf
Eligible artists can find an application by visiting the Town of Jonesborough's website: http://www.jonesboroughtn.org/images/2016_Vendor_Application.pdf. Or contact Theresa Hammons, theresah@jonesboroughtn.org.
Another popular aspect of Fine Art in the Park includes the tasting area complete with wine samples, mouthwatering chocolates, tempting sauces and savory bread samples complete with the area's own marketplace where folks can sample before they buy.
The ever popular Best of Show honor will be given amongst the regional artists that includes $1,000, second place will be awarded $500 and third place $300. Two Honorable Mention certificates will be awarded and one Best of Tasting certificate. There is also space available in the Best of Tasting area for new culinary artists. Interested vendors should contact Director, Theresa Hammons. theresah@jonesboroughtn.org 423.753.0562.
---
Jonesborough will host the 15th Annual Town-Wide Yard Sale on Saturday, August 27 from 9 am - 3 pm. The sale will take place along Boone and Main Streets throughout Downtown Jonesborough and is a fundraiser for the Jonesborough Area Merchants and Services Association. With over 50 vendor spaces, there will be some great bargains on hand. "You never know what you might find, you just have to come and see," said Event Organizer Jeff Gurley.
Come browse through Jonesborough's historic district and shop for treasures, grab lunch at one of the local restaurants and enjoy some sidewalk sales from the downtown merchants. If you are interested in being a vendor, please call 423-913-2663 for more information.
---
Join us on Main Street in Jonesborough, Tennessee on Saturday, September 3 from 5:00 pm - 8:00 pm for Strolling on Main, an art walk that will offer cheese and wine tastings. Sample over twenty varieties of cheese and cheese-infused bites throughout Downtown and enjoy wine selections, offered at various locations for an additional fee.
Local art will be featured in downtown businesses where you can Meet the Artists and purchase their work. And strolling musicians will also entertain you along the route. The Plaza of the International Storytelling Center will be a wine stop and offer a wine and beer garden with selections for sale by the glass as well.
Dona Lewis, JAMSA representative boasts, "We are excited to introduce this new event to downtown where people can casually explore the shops and view artwork by talented regional artists while also sampling cheese and enjoying wine in various establishments. An evening stroll perfect for a date night and folks who fancy good cheese and wine."
Admission is $15 for Cheese Tastings and $25 for Cheese and Wine Tastings. Ages 17 and under may enjoy cheese tastings for $10.
A limited number of tickets are available; visit Strolling on Main on Facebook for more information and to purchase tickets. You can also call the Visitors Center at 423-753-1010 to purchase tickets. This event is sponsored by the Jonesborough Area Merchants and Services Association.
jonesboroughtn.org
facebook.com/historicjonesborough
Twitter @jonesborough
Instagram @historicjonesborough

---
Sycamore Shoals State Historic Park
Traditional Arts Workshops – August 2016
*************************
To hold your place in a workshop, pre-registration and payment is required.
Please register early by calling 423-543-5808 to ensure a spot in the class!
Natural Dyeing Instructor: Carolyn DeWitt
Saturday, August 20 10 am – 4 pm
Cost: $25 Min: 2 Max: 10
Make beautiful color with all the bounty of nature. Learn to dye thread as colonial settlers might have during the 18th century. Create stunning colors with the herbs and flowers of the field. Wear old clothes and bring your lunch.
Basketry – Basil and Thyme Instructor: Candy Alexander
Saturday, August 27 9 am – 4 pm
Cost: $28.00 Min: 4 Max: 10
Create a traditional Appalachian herb basket with a wrapped handle. Learn to weave a God's Eye. A variety of woven patterns will be offered for the hoop. Dimensions: 12" rnd. x 10" high. Bring garden or kitchen shears, an old hand towel, pencil, small measuring tape, small spray bottle of water, and strong clothespins
Visitors Center Hours:
9:00 AM – 4:00 PM Tuesday through Saturday 1:00 PM – 4:30 PM Sunday
Closed Mondays
Our Visitors Center is closed on most State holidays. Park Grounds are open from Dawn to Dusk.
For more information contact:
Sycamore Shoals State Historic Park
1651 West Elk Avenue
Elizabethton, TN 37643
(423) 543-5808
"I trust my IT guy and he says we are secure enough and not at risk."
"I don't worry about testing the security of my network. I have insurance for that."
Do these statements sound familiar? Is this the approach you and your organization take when dealing with the ever-growing challenges of cyber-security? If so, we would like to have a conversation. Cyber-crime is growing exponentially throughout the United States and around the world which has definitively changed the conversation within businesses and organizations everywhere from "if we get breached" to "when we get breached, how bad is it?" A single approach to tackling the challenge of cyber-security is no longer effective. Businesses must adopt a multi-pronged strategy to protect their resources, plan for incidents and manage the repercussions. This strategy should be based on the New Cyber-Security Triad - strong It Security Services, comprehensive Cyber Insurance, and sound Legal Guidance & Planning.
The cooperative agreement between KOSBE and East Tennessee State University is partially funded by the U.S. Small Business Administration (SBA). SBA's funding is not an endorsement of any products, opinions or services. SBA funded programs are extended to the public on a non-discriminatory basis. Additional funding is provided by the Tennessee Board of Regents and the state of Tennessee. To register for this event please visit: http://bit.ly/bizcybercrime
Reasonable accommodations for persons with disabilities will be made if requested at least two weeks in advance. Please contact Katie Prendergast — 423.392.8825; kprendergast@tsbdc.org; 400 Clinchfield Street, Suite 100, Kingsport, Tennessee 37660.
The Tennessee Small Business Development Centers Network, hosted by Middle Tennessee State University in Murfreesboro, TN, is an accredited member of the National Association of Small Business Development Centers and funded in part through a cooperative agreement with the U.S. Small Business Administration, participating universities and community colleges, and regional support partners. All SBA programs are extended to the public on a nondiscriminatory basis. All opinions, conclusions, or recommendations expressed are those of the author(s) and do not necessarily reflect the views of the SBA and other program sponsors. All information is deemed reliable, but not guaranteed. All information, events, and/or prices are subject to change or withdrawal. The Tennessee Small Business Development Centers Network shall not be held responsible for any typographical errors, misinformation, or misprints. Please confirm the information with the listing party.
Reasonable accommodations for persons with disabilities will be made if requested at least two weeks in advance. Contact Katie Prendergast at 400 Clinchfield Street, Suite 100, Kingsport, TN 37660 or at 423-392-8825.
---
If you would like your local event listed here, please contact
psa@wtfm.com
Or, add it to our list yourself
here